The beauty of Georgia has so much to offer in Winter. The snow-capped mountains, lush forests, and frozen rivers create an otherworldly landscape perfect for travelers.
Winter in Georgia is a great time to enjoy the pristine beauty of nature. There's plenty about winter that will leave your heart singing: quiet cities and majestic snowy landscapes! We suggest the top 5 places and activities during your stay in Winter Georgia.

First of all, let's ask why you should visit Georgia in Winter.
Cheaper prices
Since it's not the peak of tourist season for most of the country, it means you'll find cheaper and more affordable prices for tour packages.
Fewer Crowds
Because it's off-season, there will be less crowd at every sight. This time You can get acquainted with the surroundings and get a more intimate experience.
Lots of ski activities
At this time of the year, you can enjoy Skiing, Paragliding, Snowmobile, Horse riding, and Sulphur bath.
Breathtaking landscapes
winter in Georgia is a magical time of year when the mountains bring an extra dose of beauty and wonder to its renowned natural scenery. From crisp, white landscapes that cover all except the tiny villages.
As winter is off-season for most of the country, you'll find lower accommodation prices and less pressure on transportation. Some of the country's best hotels offer nice deals over winter.

Top 5 Places and Activities During Your Stay in Winter Georgia

Here are the best places you can visit in Georgia during the winter and also amazing and memorable activities you can do.

1. GUDAURI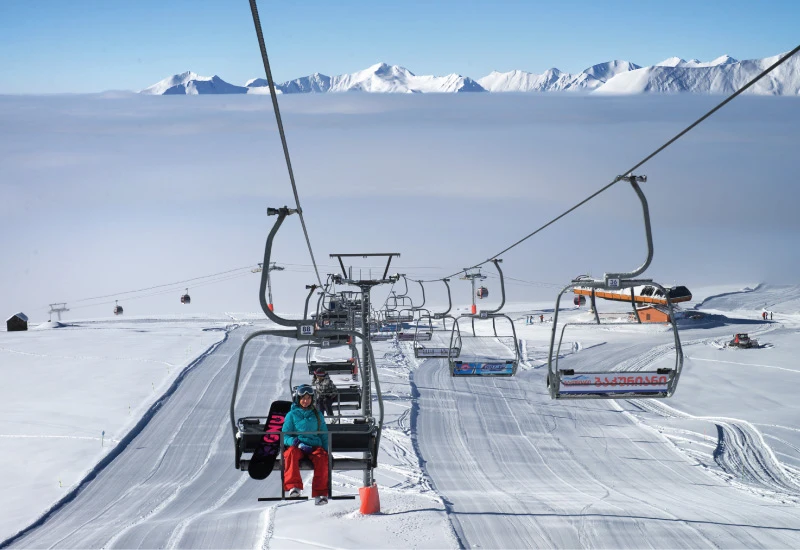 Gudauri is the perfect destination for skiers looking to take their vacation further away from civilization. The breathtaking views are unmatched, and there's plenty of action all winter long with heavy snowfall each year!
Gudauri is a ski resort with trails that range from beginner to professional levels. The runs are 2000-3 300 meters above sea level and cover 57 kilometers in total, four FIS-approved types include speed skiing, slalom, giant slalom & super Slalom.
Ski Resort is getting busy from the beginning of January and continues almost till the end of April. You can now find and purchase daily Gudauri excursions on our website! We offer a variety of trips for individuals or groups to fit your needs.
Gudauri is one of the most beautiful places in Georgia and you can visit Gudauri with our 8-day tour which also includes Tbilisi, Kutaisi, and Mestia.

2. BAKURIANI
After Gudauri, Bakuriani is the second most popular ski resort in Georgia. This Ski resort is the ultimate destination for all your winter sports needs. With over 30 kilometers of slopes, there are plenty of opportunities to get those hearts racing and lungs burning!
If you visit Bakuriani, you can enjoy everything from beginner-friendly terrain suited towards novices up to experts with advanced skills in border cross-country skiing or snowboarding. The resort has 29 kilometers of slopes and 20 ski lifts, which means you can enjoy some great views while getting your adrenaline pumping.
It's open from December through April with elevations between 1 600 meters ASL up to 2 700m AGL on the mountainside.
Bakuriani ski resort is the perfect place to spend time with family and friends. The skiing facilities are not only top-notch but there's also a beautiful park in town where you can walk around during the winter months. A magical experience awaits you during Christmas full of amazing memories for years ahead. Plan your next family trip to Bakuriani with us.

3. MESTIA
Mestia is a small town in Georgia with an unforgettable beauty located on (upper) Svaneti and is 1,500 meters above sea level. The peaks of Svaneti are some of the most picturesque mountains you will find anywhere, and this Georgian village at its feet makes for a charming destination during winter holidays. This place is quite famous among tourists from all over Europe!
When you travel to Mestia, the adventures don't stop. There are so many things for everyone's tastes and interests in this small town – from extreme activities like mountain climbing or white water rafting (your choice!)
Svaneti Offers 2 skiing resorts:
Hatsvali Ski Resort is located 8 km away from Mestia. It is an excellent choice for those seeking a downhill skiing experience. The resort offers over 30 kilometers of slopes, with many different levels that allow beginners as well as skilled skiers to enjoy themselves equally. The imposing 3248 meters above sea level makes this destination perfect even if you're someone who doesn't usually get excited about going up!
Tetnuldi is located 15 Km away from Mestia. It has 3 chairlifts that sequentially lift from 2,265 m to a height of 3,165 m. The resort area is perfect for beginners and experienced skiers. There are opportunities to enjoy freeriding in this area, accessible right from.

4. BORJOMI
The best place to go on vacation in Georgia is Borjomi. It's about 155 km away from Tbilisi and 24 km away from Bakuriani.
The mineral waters are what make this resort so famous but it also has many other attractions like Central Park where guests can enjoy picnics or hiking through nature trails while taking photos at various sightseeing spots along the way.
If these don't satisfy their desire for exploration then there's always something fun waiting for just downtown such as cable lift rides.
If you want to visit two resorts at the same time, no worries you can ride the Kukushka Train which takes passengers up into the mountains from Borjomi to Bakuriani Resort.

5. TBILISI
Of course, we couldn't end up on our list without Tbilisi – the Capital of Georgia. Tbilisi is one of the top recommended cities to visit in Georgia. While visiting Tbilisi, you will have no doubt that you are in Europe. During the new year period, you can find: Food Festivals, Flea markets, Music festivals, and New year shows in the streets.
Here are 5 reasons why you should visit Tbilisi during winter:
Cheaper prices
Delicious food
Beautifully decorated city
One of the safest cities in Europe
Snow activities nearby the city

Conclusion
Don't miss out on experiencing all of the delicious food, stunning sites, and interesting history that Georgia has to offer. We have the perfect Tbilisi city tour just in case. Book now and start exploring this magical place!